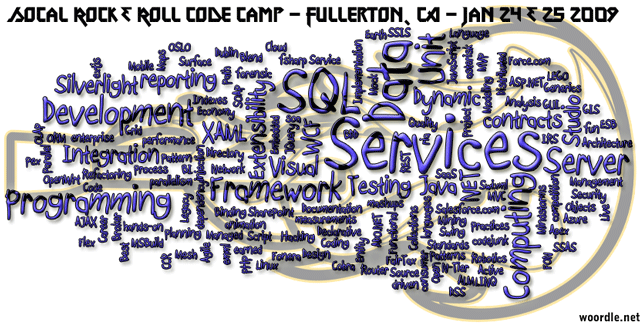 Have you ever gone to a Code Camp?  Don't let the "camp" word scare you.  We don't sleep in tents and sing kumbaya.  We don't camp.  What we do is attend great sessions, on cool technology, given by great folks!  FOR FREE!
The first time I went to a Code Camp was the SoCal Rock & Roll Code Camp in Fullerton last year.  I was blown away with the breadth of content, the caliber of the speakers, the energy of the event and the pure dollar value of the experience.  The most amazing thing about it was that it was 100%, no strings attached, amazingly, FREE!  Did you hear that?  FREE! I am now a lifer.  These are true community events, put on by the community for the community. 
Many of the people that speak at Code Camps (including this one) are the same people you would pay to see at PDC, Tech Ed, MIX, whatever.  Take a look yourself at the list sessions & speakers.
If you are anywhere near Fullerton, CA (And by near, I mean within a 400 mile radius), you owe it to yourself, to come check out the SoCal Code Camp.
Things you will miss if you don't come:
Free Geek Dinner with live music by SoundCake
A chance to learn current technology for free
A awesome chance to network with other geeks
A raffle for some awesome swag, including an Xbox 360
BE THERE! IT ROCKS!
THE WHOLE FREAKIN' THING IS FREE!
GEEZ!